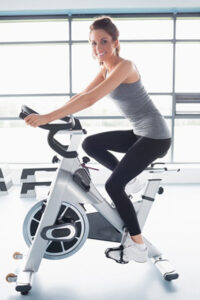 If you have had knee surgery, and are going through physical therapy another at therapy you can do at your home is to use a stationary exercise bike. Often a physical therapist will have one at their office can help with knee and leg injuries by having a good rotation of your legs to start the healing process.
Before you buy one, make sure to check with your doctor and physical therapist that it's okay for you use one. Stationary bikes are low impact, easy to use and are relatively inexpensive.
From our own experience after having knee surgery, we recommend that you start off slow and try to get full extension of your leg. If you are unable to, then just rock the peddles back and forth until you can start peddling in a full 360 degrees. Don't push it, take your time and eventually you will get there. Make sure to keep your doctor and physical therapist updated on your progress and if you have any issues or concerns.
Good luck, and hope that your recovery goes well! To find a Indoor Exercise Spinning Bike that fits your needs, go here